No Pearl Jam, no David Bowie, No Daft Punk ni White Stripes ni The Arcade Fire, no Rolling Stones, no U2, no Beastie Boys.
El real ha llegado, el real ya está aquí...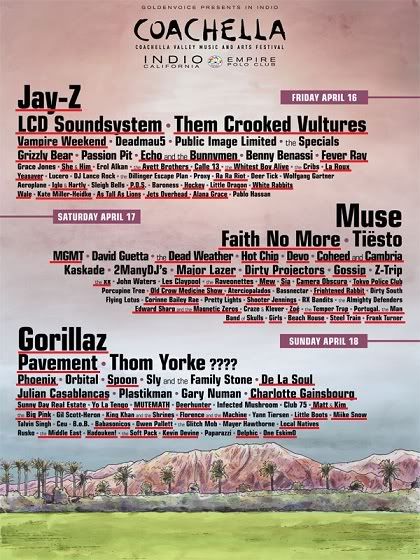 Mis opiniones se resumen a esto:

1) Jay-Z motherfuckers! Empire State of Coachella! (quejense de él todo lo que quieran, es mucho más headliner que los otros dos)
2) Meeeeews (diuk!) y Gorillaz no son tela para headliners.
3) Espero una sorpresita más adelante...
4) Lo emocionante de Coachella no son los artistas que toquen, sino la magia que se produce de la mezcla de ellos con la gente con la musica con el lugar con la emocion con todo.
5) Me gusta bastante la distribucion de las bandas. Seguro no tendré conflictos.